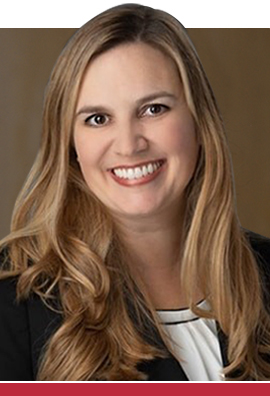 Erin Nations
Erin Nations focuses her practice in the area of family law. She assists clients with divorce, child custody and support, and related matters.
Erin's family is firmly rooted in the Williamson County community. Her father-in-law is Judge Al Nations and both her mother and mother-in-law taught in Williamson County schools for several decades. Erin is committed to the well-being of Williamson County residents and families.
Having grown up in Williamson County, Erin attended high school, college, and law school in Middle Tennessee. She graduated from Middle Tennessee State University Magna Cum Laude, receiving a degree in Political Science with a double minor in Criminal Justice and Pre-Law. After graduation, she attended the Nashville School of Law, where she earned her Doctorate of Juris Prudence. While a law student, she clerked full-time for the Circuit Court Judges of Williamson County. It was during her tenure as a law clerk that she formed the relationships and gained the vital experience that have shaped her into the well-known and respected attorney that she is today.
After obtaining her license to practice law, Erin Nations went to work at a private law firm where she gained valuable experience working with several seasoned attorneys. Her work as a law clerk for the Williamson County Circuit Court Judges paid off as Ms. Nations built her practice on her experience and reputation.
In 2014, Erin Nations joined forces with two former Williamson County judges, Ernie Williams and Robbie Beal, to form a new firm. Ms. Nations has continued to distinguish herself as a top quality Williamson County attorney, winning awards and participating in many community events and activities.
In 2018, Erin was elected to a four-year term on the Williamson County Commission, serving the constituents of District 6 in Brentwood.