Resolving Legal Matters Through Mediation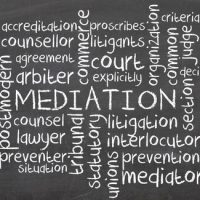 Family legal issues are some of the most difficult. The familial nature of these disputes means you are arguing with people you care about, but you must still fight for the outcome you need. In Brentwood, as throughout the rest of Tennessee, the preferred method for handling these disputes is through mediation. Most family disputes are required to go through mediation before any party can litigate them. There is a reason for this. Mediation works and greatly lightens the load of the courts, which experience regular backlogs. Below, our Brentwood mediation attorney explains the process and the benefits it holds.
How Mediation Works
Mediation is a form of alternative dispute resolution that involves the two parties meeting with a mediator. Mediators are objective third parties. They are not judges and they cannot provide legal advice on your case. The main role of mediators is to help the two parties communicate and compromise so they can reach an agreement. Mediators also offer potential solutions to help the disputing parties resolve their differences.
It is important to know that when going through mediation, it is important that you do not focus on "winning." After successfully mediating a dispute, each side should walk away with a favorable resolution.
Mediation Holds Many Benefits
Mediation is often a much better choice than litigation for people with a legal dispute. Litigation can cost tens of thousands of dollars, and even more when a case is highly complex. Mediation costs just a fraction of the expense. In addition to being a much more affordable option, mediation can also resolve legal disputes much more quickly. Litigated cases take longer because court dates are often weeks apart and a single issue could take months, or even longer, to resolve.
Mediation also gives the disputing parties more control over the outcome of their case. During litigation, a family law judge will have full control over the decisions made and the parties involved will have no say.
For people who wish to keep proceedings confidential, mediation is also the best option. Anything that happens in court becomes a matter of public record, which means that anyone can look up the facts of a certain case. The things that are said during mediation, on the other hand, are kept completely confidential because they do not become public record.
Lastly, mediation can actually help improve communication between the two parties. This is due to the fact that mediation teaches people how to compromise and communicate. This is particularly beneficial when the dispute involves sensitive matters, such as those involving children.
Our Mediation Attorney in Brentwood Can Help with Your Dispute
Mediation is very beneficial, but it is still important to allow a Brentwood mediation attorney to represent your best interests. At Beal, Nations & Crutcher, many members of our legal team have worked as judges and mediators, so we have the necessary experience to help you resolve your dispute as quickly as possible. Call us now at 615-861-2304 or reach out to us online to schedule a consultation.
Sources:
casetext.com/statute/tennessee-code/title-36-domestic-relations/chapter-4-divorce-and-annulment/section-36-4-101-grounds-for-divorce-from-bonds-of-matrimony
tncourts.gov/rules/supreme-court/31