How To Make The Most Out Of Mediation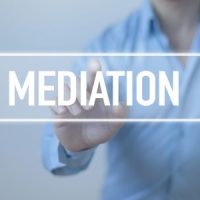 Under Tennessee law, most couples are required to try and resolve their divorce disputes during mediation before they enter litigation. During mediation, couples meet with a neutral third party mediator who tries to foster compromise and communication between the couple so they can reach an agreement on the terms of their divorce. When successful, mediation can help couples avoid costly and time-consuming mediation but unfortunately, it does not always work. Below, our Brentwood mediation attorney outlines some tips to ensure your mediation sessions are a success.
Create a List of Goals
Mediation will likely not work if you enter into sessions determined to get everything you want out of the divorce. In fact, even if you proceed to litigation, you will not get everything you want, and may even end up with less. Before starting mediation, create a list of your goals. This will allow you to focus on what is most important to you, and you may be more willing to let go of certain things.
For example, maybe you are willing to relinquish your vacation home in exchange for your spouse paying alimony. Knowing what you want most out of the divorce will help ensure mediation is successful.
Create a List of Inventory
Your marital property, or everything you and your spouse own together, is subject to division during divorce. Create a list of credit cards, bank accounts, paystubs, receipts, mortgage payments, utility bills, and any other important financial information. All of this is important to allow the mediator and your lawyer to gain a better understanding of your situation, and to ensure the property is divided fairly.
Be Honest
You may be tempted to leave certain items off of the inventory list. Or, you may not want to report your full income so you do not have to pay alimony. If you are dishonest during mediation, it is likely that it will be unsuccessful. Worse, the court will likely learn of the dishonesty and it may result in a less favorable outcome for you.
Find the Right Mediator
You, your spouse, and your respective lawyers can choose the mediator you use. Mediators all have different styles and use different approaches, so it is important to choose one that is a good fit for your case. Attorneys are very familiar with the different mediators who have the necessary experience to help ensure mediation is a success. Ask your lawyer for advice and make your choice very carefully.
Work with the Right Mediation Attorney in Brentwood
One of the best ways to ensure mediation is a success is to have sound legal representation. At Beal, Nations & Crutcher, our Brentwood mediation attorney can negotiate with the other side on your behalf, ensure your legal interests are protected, and give you the best chance of success. Call us now at 615-861-2304 or connect with us online to speak with one of our knowledgeable attorneys and to learn more about how we can help with your case.
Source:
tncourts.gov/rules/supreme-court/31