Six Things Not to Do When Getting a Divorce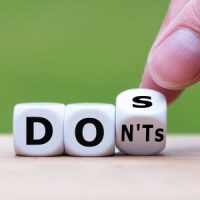 Getting a divorce will undoubtedly be one of the most challenging experiences in your life. It involves not only life adjustments and complex emotions, but also legal proceedings. Although it is impossible to avoid these difficulties entirely, there are other challenges you can avoid by simply not making some basic mistakes. Below, one of our Brentwood divorce attorneys explains what these are.
Impulsively Reacting 
A divorce can trigger many different emotions, including resentment and anger. Even so, it is important to note that reacting impulsively can have far-reaching consequences. If you make impulsive decisions, engage in aggressive behavior, or use your children as leverage, it can cost you more time, money, and stress. It will also greatly complicate the process. It is important to seek support from friends, family, and even colleagues to help you manage your emotions and remain calm.
Failing to Openly Communicate with Your Spouse 
Communicating with your spouse may be the last thing you want to do during the divorce process. However, failing to openly communicate with your spouse can result in unnecessary disputes, misunderstandings, and extensive legal battles. Try to find a form of communication that works for both of you, whether that is through emails, texts, and perhaps even using a divorce mediator.
Ignoring Legal Advice 
Divorce involves a great deal of documentation, legal procedures, and financial considerations. It is critical to obtain the help of a Brentwood divorce attorney who can help you through the process. Working with an attorney is not enough, though. It is critical that you do not ignore their advice, as this is likely the best way to obtain the fair settlement you deserve.
Getting Children Involved 
It is no secret that divorce is hardest on the children. One of the biggest mistakes you could make is involving your children with the disputes between you and your spouse. This will not only be even more damaging to their emotional and mental health, but it will also work against you in your case. A judge may determine you do not have your children's best interests at heart, which could hurt with your custody case.
Not Disclosing All Financial Information 
During a divorce, you are required to disclose all financial information. If you fail to disclose certain assets, debts, and other financial information, it could also work against you. A judge may determine that you are acting in bad faith and so, award your spouse more in property division hearings.
Focus on Winning 
The truth is, there really is no winner in divorce. It is going to be a hard process for both you and your spouse. However, you may want to win certain disputes and this is when choosing your battles is important. Do you really want to keep a certain asset, or are you only fighting for it to spite your spouse? Consider what is really important to you before going to battle over it.
Our Divorce Attorneys in Brentwood Can Help You Avoid Mistakes 
The above mistakes are just a few of the most common you could make during divorce. At Beal, Nations & Crutcher, our Brentwood divorce attorneys will ensure no mistakes are made in your case so you obtain the  full and fair settlement you deserve. Call us now at 615-861-2304 or contact us online to request a consultation and to get more information.
Source:
casetext.com/statute/tennessee-code/title-36-domestic-relations/chapter-4-divorce-and-annulment/section-36-4-101-grounds-for-divorce-from-bonds-of-matrimony