Things To Know About Social Media While Going Through A Divorce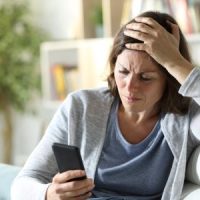 Social media plays a significant role in the daily lives of many people. The social media posts you publish when going through a divorce though, can significantly hurt your case. Below, one of our Franklin divorce attorneys explains the most important things you should know about using social media while ending your marriage.
Consider Giving It Up Altogether
You may not be able to stay off social media during your divorce. Many people use social media to communicate with family members, participate in a community they enjoy being part of, or they need to use it for professional purposes. If possible, though, you should consider giving up social media at least while your divorce case is ongoing. This can help you avoid many of the negative impacts social media can have on a divorce, while allowing you to obtain the best possible results in your case.
Do Not Post Any Details of Your Divorce
Even if you cannot refrain from using social media altogether, it is critical that you do not post any details about your divorce case. If you post several angry rants about your former spouse, the courts will not look favorably upon you. Also do not make any posts outlining any decisions that have been made, or anything else about the legal proceedings. This could work against you, particularly if the details of your divorce are meant to be confidential, such as if you are mediating your divorce case.
Refrain from Posting About Your Children
Posting pictures about your child's soccer game or holiday pageant may be important to you, as you want to share these memories with your family members and friends. Unfortunately, even these can hurt you during the divorce process. If you and your spouse cannot agree on terms such as child custody and support, they may take posts about your children out of context to show the court that you are not a good parent and should not have custody.
Do Not Use Dating Apps
Many social media sites are also dating sites or apps. You may be excited to move on with your new life after the divorce, but you should always refrain from dating while divorce proceedings are ongoing. If you start a new romantic relationship, your spouse may argue that you are being unfaithful, and adultery is a ground for divorce that can hurt you during your case.
Your spouse may allege that you spent marital funds on the relationship, which could result in a higher alimony amount or your spouse being awarded more in property division. Remember that until your divorce is official, you are still legally married and as such, should refrain from dating.
Our Divorce Attorney in Franklin Can Provide the Strong Legal Representation You Need
At Beal, Nations & Crutcher, our Franklin divorce attorneys can offer the legal advice you need on all the different aspects of your case. Contact us online or call us today at 615-861-2304 to schedule a consultation with one of our skilled attorneys.
Source:
casetext.com/statute/tennessee-code/title-36-domestic-relations/chapter-4-divorce-and-annulment/section-36-4-101-grounds-for-divorce-from-bonds-of-matrimony