What Can You Include In A Prenuptial Agreement?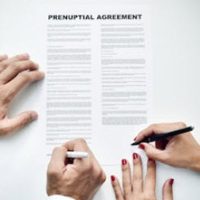 A prenuptial agreement is a legal contract that divides a couple's assets and handles other legal matters that pertain to divorce. Prenuptial agreements are signed prior to a marriage and they go into effect the moment a couple is legally married. Drafting a prenuptial agreement requires much more than simply writing down the wishes of each party. The law in Brentwood, and throughout Tennessee, governs these contracts and in order to be enforced by the courts, they must be drafted properly. Below, our Brentwood prenuptial agreement attorney outlines what to include in these documents, and the requirements placed on them.
Who Should Draft a Prenuptial Agreement?
Truthfully, anyone getting married can benefit from a prenuptial agreement. Regardless of the income of the couple, or the assets they have before marriage, a prenuptial agreement can simplify the process if the marriage dissolves in the future. Although anyone can benefit from these contracts, there are some individuals who should especially consider them. You should speak to an attorney about drafting a contract prior to marriage if you:
Were married before, particularly if you have children from that marriage,
Own a business,
Have a substantial income or own significant assets, or
Have an income significantly higher than your future spouse
Items You Can and Cannot Include in a Prenuptial Agreement
Prenuptial agreements in Brentwood largely deal with financial matters. These may include:
Provisions regarding children from a previous marriage, such as their inheritance
Asset and property division
Alimony, including the amount, type, and duration
Custody of pets
Responsibility for debts
Two provisions that cannot be included in a prenuptial agreement are child custody and child support matters. Child custody is a matter that must be decided on or approved by a judge during divorce proceedings. Child support is money that is meant for the child, not the parent who receives it. As such, parents do not have a legal right to negotiate on behalf of the child.
Ensuring Your Prenuptial Agreement is Enforced
Prenuptial agreements can be challenged, so it is critical that you make sure yours is enforceable by the courts. In order to be legal, a prenuptial agreement must meet the following requirements:
The contract must be in writing,
Each party must enter into the agreement freely and in good faith,
Each party must have had sufficient time to review the document carefully before signing it,
The contract must be fair to both parties, and
The document must be executed before you get married.
A Brentwood prenuptial agreement attorney can make sure your agreement is drafted properly and that it will be enforced by the courts.
Call Our Prenuptial Agreement Attorneys in Brentwood Today
If you are getting married, a prenuptial agreement can provide the protection you need. At Beal, Nations & Crutcher, our Brentwood prenuptial agreement attorneys can draft a contract that will provide the security you need and protect you in the future. Call us now at 615-861-2304 or reach out to us online to schedule a consultation and to learn more.
Source:
casetext.com/statute/tennessee-code/title-36-domestic-relations/chapter-4-divorce-and-annulment/section-36-4-101-grounds-for-divorce-from-bonds-of-matrimony