Why Are Gray Divorces On The Rise?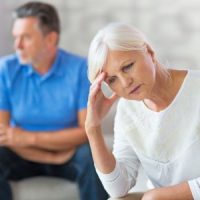 The divorce rate among younger couples has decreased over the past 20 years or so, but there is one demographic where the rate is steadily increasing. According to the United States Census Bureau, the divorce rate among couples between the ages of 55 and 60 was 43 percent in 2021. That was the highest divorce rate for married couples over the age of 20. These cases are known as gray divorces. So, why are they on the rise? Below, one of our Franklin divorce attorneys explains.
Arguments Over Money 
Disagreements about money are still one of the main reasons people choose to end their marriage. When a couple is young, though, it is easier to recoup the losses if one partner overspends or makes poor investment choices. Couples who are closer to retirement may find those choices have taken away their nest egg. For many, the loss is too great to overlook and it results in divorce.
Infidelity 
Like arguments about money, infidelity is one of the main reasons couples of any age decide to divorce. When a couple is older, one partner may not have the same desires or drive as another, leaving the other partner to go looking somewhere else. It is easier to connect with other people today than it has been in earlier years and so, people may also find it fairly easy to be unfaithful.
Longer Life Expectancies 
A reason for divorce that is unique among the older generation is that people have longer life expectancies today than they once did. While at one time, people may have decided it was not worthwhile to divorce someone in their golden years, that is no longer the case. At the age of 60 today, a person could still have 25, 30, or more years of life to live. If they are unhappy with their partner, that is a long time to spend with them and so, they may decide to divorce.
Empty Nesters 
When a couple is young, they have a career, children, pets, activities, and a household to maintain. This keeps them busy and when they spend time alone with their spouse, it truly is a chance to reconnect and refresh the relationship. Once those other factors are no longer a part of daily life, the house may become too quiet. People may realize they no longer have anything in common with their spouse, or that they have changed and so has their spouse. This is sometimes too great to overcome and results in divorce.
No More Stigma Around Divorce
 Twenty or thirty years ago, there was still quite a stigma around divorce and that kept many couples together. Today, that is no longer the case and people have realized that if they are unhappy in their marriage, it is perfectly okay to get a divorce.
Our Divorce Attorneys in Franklin Can Help with Your Case 
Regardless of your age, you should always have the sound legal representation our Franklin divorce attorneys can provide. At Beal, Nations & Crutcher, our skilled attorneys can advise you of your legal options, make sure your rights are upheld and give you the best chance of a positive outcome. Call us now at 615-861-2304 or reach out to us online to schedule a meeting with one of our experienced attorneys and to get more information.
Source:
census.gov/newsroom/press-releases/2021/marriages-and-divorces.html