Can A Sleep Divorce Help You Avoid The Real Thing?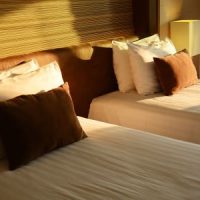 The dynamic between couples changes the longer they are married. During the honeymoon phase, you may have wanted to spend as much time as possible with your spouse. After being married for decades, you may appreciate alone time more than you did when you were first married. For many, this is most true when it is time to sleep.
As people age, it often becomes more difficult for them to get a good night's sleep. They are also more likely to snore and get up multiple times during the night. The combination of these factors can make things very difficult. Some people find that sleeping with their spouse is just no longer as practical as it once was and so, they get a sleep divorce. Many are also surprised to learn that it can help some people avoid getting an actual divorce.
What is a Sleep Divorce?
A sleep divorce occurs when two spouses start sleeping permanently in different rooms. They are also becoming more popular. According to a study, one in four couples choose to sleep separately in order to get a better night's sleep. Sleeping in different rooms is no longer considered the sign of trouble in a marriage that it once was. The reason they are becoming more popular is simply because for many, the arrangement works.
What are the Benefits of a Sleep Divorce?
Sleep deprivation can significantly impact important aspects of a relationship, including one's mood, tolerance, frustration level, and empathy. A good night's sleep can simply make a person feel better, making it easier for them to treat others better. When people are well rested, it has also been found that they are better communicators, which can also greatly help a marriage.
For some couples, a sleep divorce is more practical than sleeping together. For example, one spouse may work the night shift, disturbing their partner every night when they get into bed at 4:00 a.m. Some couples even think that a sleep divorce adds mystery back to their relationship and makes their time together more meaningful.
How to Talk About a Sleep Divorce
Even knowing a good night's sleep is on the line does not make broaching the subject of a sleep divorce with your spouse any easier. When you want to split up every night, but stay together as a couple, the following tips can help.
Remind each other that sleeping separately does not mean your relationship is in trouble.
Acknowledge that it will be difficult for each of you, but that it is the healthiest thing to do.
Customize your plan so that it works for you. For example, maybe you sleep apart during the week when you work but sleep in the same room on weekends.
Keep other nighttime rituals, such as watching the news together before bed.
Headed for Divorce? Our Family Lawyers in Franklin Can Help
Couples typically try many things to make their marriage work before getting a divorce, and sleeping separately is just one of them. If you are considering divorce, speak to one of our Franklin family lawyers at Beal, Nations & Crutcher today. Our skilled attorneys can advise on the facts of your case and protect your rights from the very beginning. Call us now at 615-861-2304 or contact us online to schedule a consultation.
Resource:
nytimes.com/2019/07/31/fashion/weddings/is-it-time-for-a-sleep-divorce.html