Can You Keep The House In Divorce?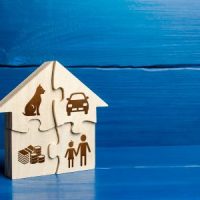 You love your home for many reasons. Maybe you built your dream kitchen, or perhaps it is in the same neighborhood as your children's school. When you are facing divorce, though, you may be at risk of losing the family home that has come to mean so much to you. So, is it possible to keep the marital home during divorce? Below, one of our Franklin property division attorneys explains when and how it is possible to keep your home after divorce.
Is the Home a Marital Asset?
Before determining if you can keep the family home, you must first determine whether it is considered marital property. Marital property includes all assets and liabilities acquired during the marriage. Separate property includes any assets or debts obtained by one spouse prior to the marriage. While the concept of marital property is fairly straightforward, the issue can become quite complex.
For example, when separate property is commingled with marital property, it too is considered marital property. Even if a home is separate property, it can be classified as marital in certain situations. For example, if the spouse who did not own the house prior to marriage contributed to paying the mortgage or maintenance costs, that commingles the property and deems it to be marital.
Tennessee is an Equitable Distribution State
In Tennessee, all marital property is divided equitably, or fairly, which does not necessarily mean equally. As such, the value of your home may not be split 50/50 during a divorce. You and your spouse may be able to reach an agreement with your spouse about who keeps the home. If you cannot agree, a family law judge will make the final decision. A judge will take many factors into consideration when determining the portion of the property you are entitled to, including the length of your marriage, the income of you and your spouse, and if your children are being raised in the home.
How to Keep the Family Home
Before a home can be divided or awarded to one spouse, it first must be properly valued. A judge will then determine the rights each spouse has to the value of the home. If you want to keep the home, you have two options. You can buy your spouse's portion of the home from them, giving you full ownership. Or, you can forfeit other property that is of the same value. For example, if you wanted to keep the marital home, you may offer your spouse the vacation home you shared during the marriage, if it is of equal value.
If you are successful in keeping the family home, there are several important tips to keep in mind. Before deciding if you want to keep the home, first consider if you can really afford it. In addition to the mortgage, you will also be responsible for paying the property taxes, maintenance, and other costs that go into maintaining a home. Also refinance the mortgage so it is in your name only and does not reflect your spouse as an owner.
Our Property Division Attorneys in Franklin Can Advise On Your Case
If you are getting a divorce and want to keep the family home, our Franklin property division attorneys at Beal, Nations & Crutcher can provide the sound legal advice you need. Call us now at 615-861-2304 or contact us online to schedule a consultation and to learn more.
Source:
law.justia.com/codes/tennessee/2020/title-36/chapter-4/section-36-4-121/