Who Gets the Family Pet in a Divorce?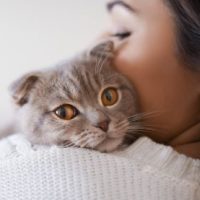 Your pet is not just an animal. They are part of the family and you have likely come to love them and rely on them for companionship. When you get a divorce, though, either you or your spouse will have to take ownership of the pet. So, how does the law decide who will get to keep your pet after divorce? Below, one of our Brentwood property division attorneys explains how pets are treated during divorce, and the factors the courts will take into consideration.
Pets are Considered Property During Divorce 
While your pet may be a beloved member of the family in your eyes, the law does not view them in the same way. Under the law, pets are classified as 'personal property,' in the same way that real estate, vehicles, and other belongings are categorized. As such, pets are typically considered to be marital property and will be divided in an equitable, or fair, manner.
Of course, it is not possible to divide a pet in the same manner as a bank account or other property. As such, one spouse is typically awarded the pet and the same person will have to relinquish other property of equal or greater value.
How to Keep Your Pet During Divorce
 For some, the idea of losing a pet during a divorce is as devastating as the end of the marriage. Fortunately, there are ways you can keep the animal post-divorce. Like any other term of the divorce process, you can reach an agreement with your spouse about who will keep the pet, which is ideal. By reaching an agreement, you can keep the matter out of court and reach a solution that works for both of you.
You can also include a pet within a premarital agreement. A premarital agreement outlines how property will be divided during divorce, and that can include your pet. If you did not have a premarital agreement before you got married, a postnuptial agreement can be drafted after the wedding and this can also include provisions for your pet.
What the Courts Will Consider 
If you cannot reach an agreement with your spouse about who will get the pet, the matter will have to go to court so a judge can decide. Like all legal matters, a judge will take many factors into consideration when making their decision and these include:
Which party paid for the pet's care,
Who fed, walked, cleaned, and gave medication to the pet,
Which party spent the most amount of time with the pet,
The residence that will be most accommodating for the pet post-divorce,
Whether the pet was owned by one party before the marriage, or was adopted by the couple together, and
Whether the pet is a service or emotional support animal.
While it is important to present evidence to show that you primarily care for the pet and spend the most amount of time with it, Tennessee law does not allow custody battles over family pets.
Our Property Division Attorneys in Brentwood Can Fight for Your Rights 
The thought of losing your animal at the same time you lose your marriage is devastating. At Beal, Nations & Crutcher, our Brentwood property division attorneys will make sure your rights are always upheld so you have the best chance of obtaining an outcome that is most favorable to you. Call us now at 615-861-2304 or contact us online to schedule a consultation and to learn more about how we can help.
Source:
law.justia.com/codes/tennessee/2020/title-36/chapter-4/section-36-4-121/