Thinking About A Premarital Agreement? Here Are Four Things To Know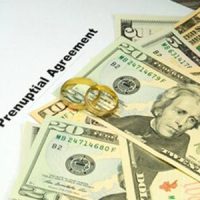 If you are getting married, you may be considering entering into a premarital agreement. Your spouse-to-be may have already approached you about signing one. Prenuptial agreements hold many benefits for marrying couples, but there are some things you should know before entering into one of these agreements.
There are Many Reasons to Enter Into a Prenuptial Agreement
Many couples who enter into a prenuptial agreement have many misconceptions about these agreements. Prenuptial agreements are legal contracts that outline each party's rights in the event the couple gets a divorce. Prenuptial agreements are signed prior to the wedding, but post-nuptial agreements, which are signed after the marriage takes place, are another alternative.
Regardless of when an agreement is entered into, couples can outline which property is considered separate and which party will retain it after a divorce. Other terms can include the rights of children from a previous marriage, or any estate plans either party is bringing into the marriage. Prenuptial agreements are no longer reserved solely for the wealthy. There are many reasons all marrying couples should have one drafted.
It is All About the Timing
Thanks to dramatic television shows and movies, many people think they can enter into a prenuptial agreement the night before the wedding, or moments prior to it. This is actually not the case. It is wise to sign a prenuptial agreement with plenty of time before the wedding. A short time frame between the time of signing and the wedding may indicate that one party signed the contract under duress. If the court makes that determination, they will not enforce the agreement and it will no longer provide the protection you thought it did.
Each Party Should Have Legal Representation
You may think you can save money by using the same lawyer during any negotiations that may take place, and to draft the contract. However, when a lawyer works for a client, they represent that person's best interests only. Using the same lawyer for just about anything in family law can create a conflict of interest. When working with your own lawyer, you have the reassurance of knowing they are standing up for your rights and interests. They will also inform you of your responsibilities and any consequences of the agreement.
Prenuptial Agreements Provide Protection for Both Parties
You and your fiancé are both required to provide full disclosure about your financial situation, including your assets and liabilities. Other terms of the agreement cannot be unconscionable. These requirements are in place to ensure that a prenuptial agreement protects both parties.
Our Family Lawyers in Brentwood Can Draft Your Prenuptial Agreement
At Beal, Nations & Crutcher, our Brentwood family lawyers can provide the legal counsel you need and will ensure your prenuptial agreement is fair and enforceable. Call us now at 615-861-2304 or reach out to us online to schedule a consultation with one of our seasoned attorneys and to learn more about how we can help.
Source:
casetext.com/statute/tennessee-code/title-36-domestic-relations/chapter-4-divorce-and-annulment/section-36-4-101-grounds-for-divorce-from-bonds-of-matrimony