How Much Does Divorce Cost In Middle Tennessee?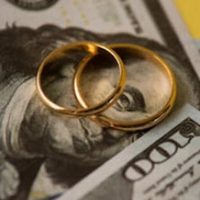 It is no secret that divorce is costly, but many people are surprised by just how costly the process can become. The specific facts of a case will directly affect the cost and so, not all divorce cases will cost the same. Below, our Middle Tennessee family lawyer explains the costs you may face when going through a divorce.
Filing Fees
When initiating a divorce, you will have to pay a filing fee. The amount of filing fees varies by county, but they are usually between $250 and $400. If you were served with divorce papers and have to file a response, you may also have to pay a filing fee. These fees are generally less expensive.. In some cases, this fee can be waived if a person cannot afford it.
Service Fees
If you are the one to file for divorce, you will have to hire a process server or the local sheriff's department to serve your spouse with divorce papers. If your spouse tries to avoid service or lives further away, service fees can be more.
Expert Witness Fees
Generally speaking, you cannot testify about your own opinions during a divorce trial. You can only testify about the actual facts you know. Expert witnesses, on the other hand, can provide their opinion through testimony. Your lawyer will have a network of expert witnesses they can call on, but they will charge a fee that will be passed onto you.
Private Investigator Fees
In some cases, it is necessary to hire a private investigator who can obtain important evidence for you. For example, if you know your spouse is having an affair but they deny it, being able to prove that fact could  help with alimony or other issues. A private investigator can investigate the matter and obtain evidence, such as pictures, that help you prove your case.
Mediation Fees
One way to avoid the high cost of divorce litigation is by settling the divorce case during mediation. However, mediation is not free, either. Mediation usually costs anywhere between $300 and $400 per hour and mediation sessions usually last between five and eight hours. Still, mediation is much less expensive than going through a trial.
Our Family Lawyer in Middle Tennessee Can Help Keep Costs Low
It is true that there are some expenses associated with divorce that you cannot avoid. However, there are ways to make it more affordable, such as negotiating a fair settlement in a fairly short amount of time. At Beals, Nations & Crutcher, our Franklin family lawyers can advise on all aspects of your case, including how to minimize the cost. Call us today at 615-861-2304 or contact us online to schedule a confidential consultation.
Resource:
casetext.com/statute/tennessee-code/title-36-domestic-relations/chapter-4-divorce-and-annulment/section-36-4-101-grounds-for-divorce-from-bonds-of-matrimony